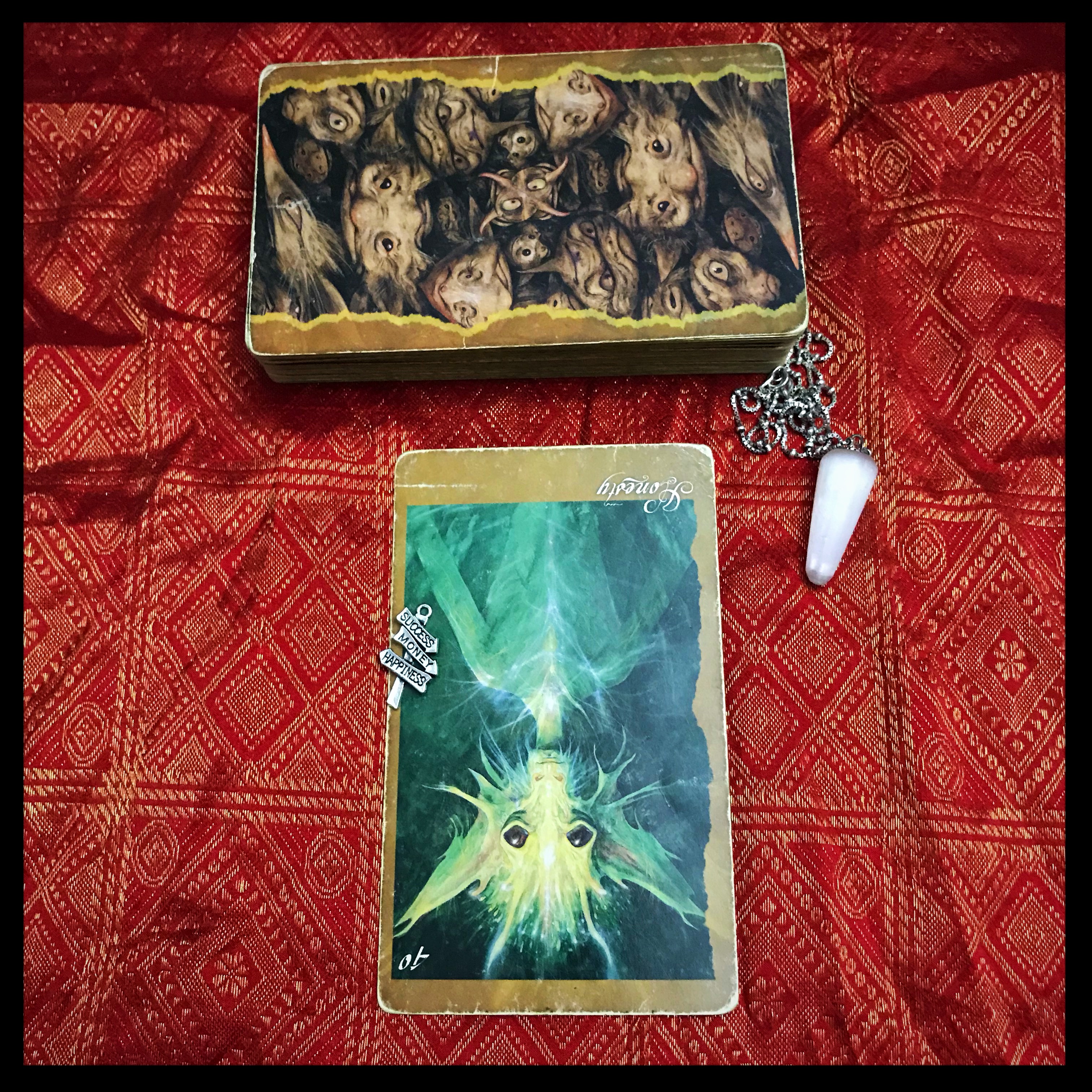 This is the day that I am privileged to talk about the Oracle deck that brought me to reading for people professionally: The Faerie's Oracle, with Illustrations by Brian Froud and book by Jessica MacBeth. I first saw the box-set in a Barnes and Noble while still in college, way back in the year 2000. I have always been a Jim Henson fan, and I was one of the few kids in my elementary school that had seen The Dark Crystal. Those were dark times in Jacksonville, Fl. Brian Froud had previously worked with Alan Lee on the book "Faeries" and was building a reputation as an imaginative artist with a direct link to the Fae, so Jim Henson snatched him to be artistic director for the Dark Crystal. When I saw the Faerie's Oracle for the first time the jolt of energy that flew through me stood my hair on end. I purchased the cards and started to work with them right away. As expected, Brian Froud's images of the Fae were beautiful and Jessica MacBeth, another known faerie friend, wrote a book that opened up a whole nother world to me. I joined the Faerie's Oracle group on Yahoo, I attended the very first Faerie Worlds in Los Angeles and then in Oregon when it moved to a weekend camping experience. I even met the Frouds. Brian and Wendy, who did the puppet design for the Dark Crystal, met on set and married soon after. Their son Toby played the baby in Labyrinth, another Henson production if you are keeping track. The Frouds, all in all, are lovely people and they are devoted to artistic expression and the Faerie World.
I will continue to add to my collection of Tarot and Oracle decks, but none will compare to my very first. My Faerie's Oracle's cards are soft and flexible, and the edges are worn from use. I used to fan out my cards and choose from them, but they are so familiar to me I can recognize the cards from the back. That's one of the reasons I changed my technique to cut and draw. I also learned to read these cards in reverse. This and my new Akashic deck, which I discussed on January 9th, 2019, are the only reversals I use. Tarot can be complicated with its symbolism and history, so I prefer to keep the cards upright, but I find the cards of the Faerie's Oracle to be more straightforward like old friends.
If you get a card like Honesty, for example, when he stands directly facing you he is saying, "Hi! I think I would very much like to tell you that you will need to look at truthfulness today." If he is standing on his head, he's saying, "Um? It seems from this angle that someone is not being honest. OR! Maybe you're not being truly honest with yourself about something. That's no way to be!" I guess, then, each card kind of deals with the opposite of the meaning, but honestly (Honesty would like that I said that) I just follow my intuition with each of them. There is no cut and fast rule.
So let's take a closer look at Mister Honesty today. Jessica MacBeth said that he is a Moonwort plant. Moonworts have many names, and as a Herbalism student, I was interested in the medicinal qualities for a little, added insight. I referred to Nicolas Culpeper's "Complete Herbal," released in 1652. Culpeper believed in the connection between astrology and herbalism, just as I do. He did mention the medicinal qualities of Moonwort, but I think the folk wisdom is more pertinent to our reading. He said, "The Moon owns the herb. Moonwort is an herb which (they say) will open locks, and unshoe such horses as tread upon it: This some laugh to scorn, and those no small fools neither; but country people, that I know, call it Unshoe the Horse. Besides I have heard commanders say, that on White Down in Devonshire, near Tiverton, there were found thirty horse shoes, pulled off from the feet of the Earl of Essex's horses, being there drawn up in a body, many of them being but newly shod, and no reason known, which caused much admiration: the herb described usually grows upon heaths."
So here we have Honesty, staring into our eyes with his own, telling us, "Be truthful with others, be truthful with yourself. I don't like it when things are locked away. I will open the truth whether you want to or not. Not to be mean. I love you. You need to be honest with yourself and others." The Fae are the most honest creatures around. Nature doesn't lie. Their methods are sometimes hard to understand, but they aren't people, they don't see things the way we do.
So, Honesty has come to visit and shown up in a headstand, no less. He's warning us that above all today we should be truthful. It's possible that someone may not themselves being honest and the Lenormand Crossroads tells us that we may need to make some decisions on how we will deal with it. The only thing we can do is to be the better person and stand on our head to look at things from a different perspective. It will help make our decisions easier. Above all, be honest and truthful with yourself and others because if you don't Honestly will unlock all of the secrets that have been locked away in the most inopportune times.
Have a beautiful (and honest) day everyone!